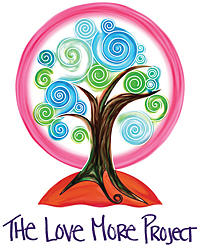 The Love More Project serves as a sacred portal, allowing for the transmission of even more Love into this Realm.
It is here to revolutionize the way we communicate and interact with the media and community and is designed to be an empowering resource in today's shifting New Age culture.  This is accomplished by providing Inspired Media and Gatherings designed to activate, educate and empower you to experience even more Love in your life.
I invite you to get involved in our heart-centered community by listening to our radio broadcasts, watching a video, reading our digital magazine Love Letters, and joining us in a live, interactive Gathering.
I look forward to sharing your journey with you.  Welcome!
Blessings & Namaste.
Love,
Megan Gala, M.A.
Founder of The Love More Project
*******
Update July 2011
The Love More Project is on a temporary hiatus due to pneumonia! Yikes! I hope to be on the mend soon.  In the meantime enjoy the archives! -MG
*******
Update December 2011
I'm thrilled to announce I am pregnant with my first child.  I will be taking some time off to focus on my most exciting creative project to date! -MG
*******
Update July 2012
The Love More Project continues to be on temporary hiatus from producing new content due to the birth of my first child! In the meantime, I invite you to peruse our archived content.  We have created hundreds of hours of radio broadcasts, videos and many digital magazines for your enjoyment.  The links to each are available to the right. -MG
*******
Update October 2012
In transitioning our site to a new hosting company and CMS our old site was lost.  Please accept my apologies.  Our new site is in the process of being created. = )  I invite you to join our Facebook community and newsletter to stay up to date our transition. -MG